win the Amazon Buy Box in 2021.
We will check the Amazon Buy Box algorithm and look at how you can consistently win the Buy Box in 2021. We'll also look at the most effective pricing strategies that will help you capture the little orange button. 
Have you noticed a prominently displayed 'Buy Now' and 'add to cart' button on the right side of a product listing? That is the Amazon Buy Box. This innocuous button lets one lucky merchant or seller stand out from the others. Whenever a customer clicks on any of these two buttons, they are buying from that particular seller. 
Amazon Buy Box eligibility
Every seller has a chance to win the Buy Box on Amazon provided they have a professional account. People with individual seller accounts cannot win the Buy Box.
Importance of Amazon Buy Box
Most customers buy products directly using the Buy Box without even considering the other offers. Around 80% of all Amazon sales are through the Buy Box. That is why it is important to win the Buy Box. That is also why there's a lot of competition for the Buy Box. With mobile shopping becoming more and more popular, the importance of the Buy Box is only set to increase.
In a nutshell, winning the Buy Box is a guaranteed way to boost your sales. 
Note: It is possible that a listing does not have a Buy Box. While it is rare, consumers will see a 'See all buying options' message instead. 
Amazon Buy Box: Pricing myths busted 
Many people believe that price is the only factor that decides who wins the Buy Box. It couldn't be farther from the truth. Price is one of the many deciding factors that Amazon's algorithm considers when assigning the Buy Box. Competitive pricing is very important when it comes to e-commerce, but it is not the only deciding factor when customers make a purchase. 
Let's have a look at the various factors that Amazon considers when assigning the Buy Box
How to win the Buy Box on Amazon in 2021
Once you have a professional account, the way to win the Buy Box is by creating an impeccable customer experience. Amazon is obsessed with customer satisfaction, and you should be too. So, what is the Amazon Buy Box formula? How can sellers win the Buy Box and stay on top? 
Maintain inventory
Your chances of winning the Buy Box also depends on whether Amazon thinks you have sufficient inventory to fulfill the order. Sounds confusing? In a nutshell, if you don't keep up with demand, your chances of winning the Buy Box take a hit. Always keep track of how much inventory you have and regularly check inventory reports. This will ensure that you're never short on inventory.  
Sign up for Amazon FBA
FBA (fulfillment-by-Amazon) sellers have an advantage when competing for the Buy Box. For FBA sellers, Amazon takes care of the packaging, shipping, and customer service. Products sold by FBA sellers also qualify for Prime – ensuring lightning-quick delivery. This does not mean that FBM cannot win the Buy Box. It is possible, but it is easier with FBA.
FBA is the smarter choice if you want to win the Buy Box, but in the end, it depends on your business model.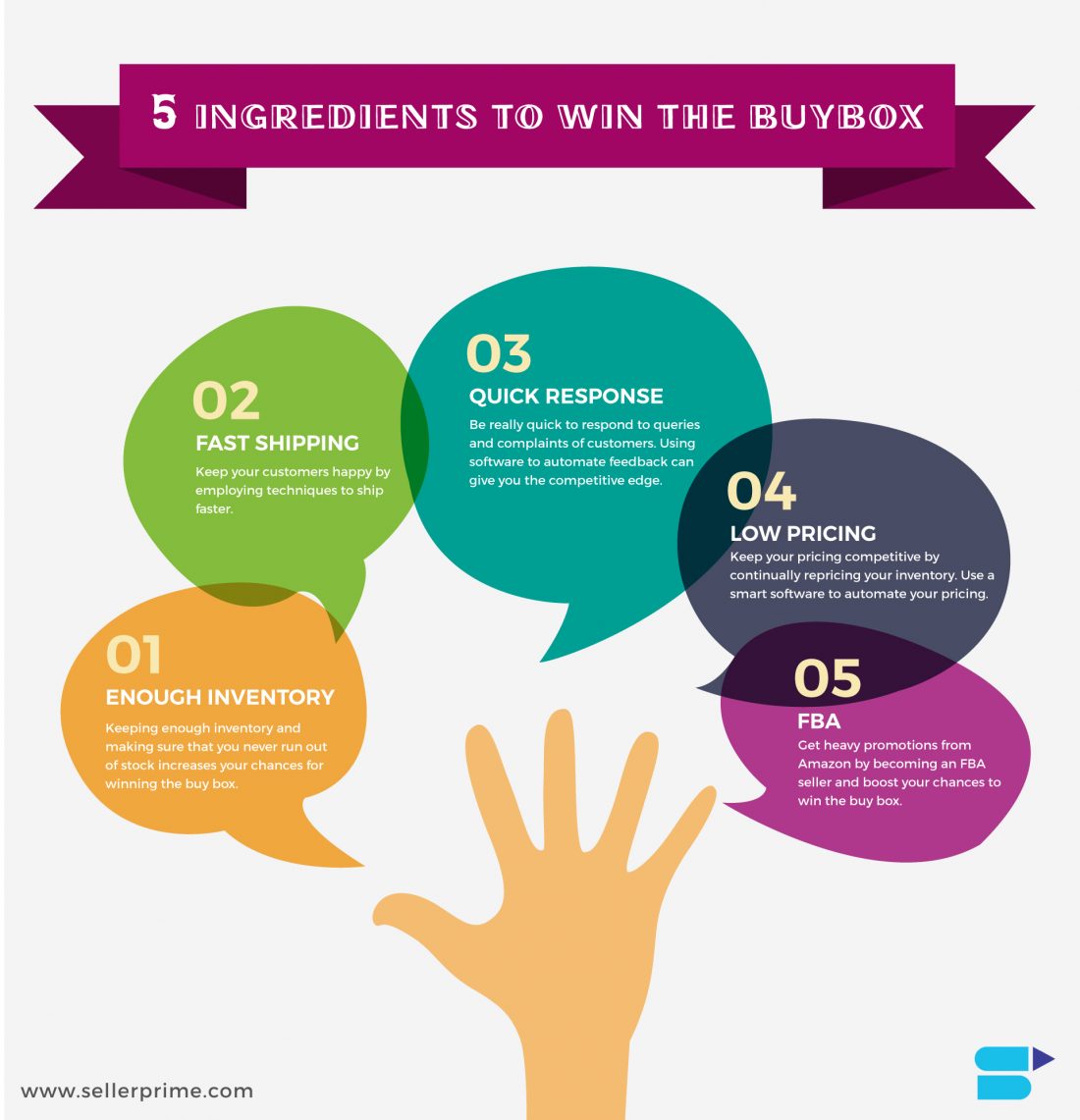 Fast Shipping
Amazon Prime has drastically altered customer expectations for e-commerce deliveries. Keeping up with the trend, Amazon ensures greater visibility for sellers who offer faster delivery. This is why FBA sellers have a massive advantage when competing for the Buy Box.
In general, shipping time comes under the following brackets.
0-2 days
3-7 days
8-13 days
14 days or more
Seller rating 
Amazon has a 0-100 rating system for every seller. The higher your rating, the better your chances of winning the Buy Box. Your seller rating is influenced by multiple factors including customer response time, order cancellations, A-to-Z claims, customer feedback, and more. Ideally, you also want to ensure that your order defect rate is below 1%. If more than 1% of the products you send out are defective, you will be penalized.
How quickly you respond to customer queries also affects your chances of winning the Amazon Buy Box. The online retail giant monitors your customer response time, and delayed responses will have adverse effects on your seller rating. 
Product pricing
Every shopper loves competitive pricing. Amazon loves what customers love. Amazon's goal is to provide exceptional goods at affordable prices to its customers. That's why product pricing is a factor in deciding who wins the Buy Box. The cheaper the prices, the better your chances of winning the Buy Box. However, you need to be careful and ensure that you're not selling your product at a loss when competing for the Buy Box. Don't forget, pricing is only one of the factors determining your ability to win the Buy Box. It is possible to win the Buy Box at a higher product price if your other metrics are great. 
Checking on price changes is a full-time job, but there are ways to make the process easier. You can automate the process with repricing tools. We'll go into detail about repricing techniques later. 
Seller experience
Unfortunately, this is a metric that you cannot control. Experienced sellers do have an advantage over new sellers, but it is not an insurmountable advantage. With great seller metrics and the right pricing strategies, even new sellers can compete for the Buy Box. 
Why am I not winning the Buy Box?
There could be a number of reasons that prevent you from winning the Buy Box. The usual culprit is a poor seller rating, inventory, or pricing. It is difficult to pin-point the exact problem because it is not possible to view your seller rating. Moreover, improving your seller rating takes time. However, there are metrics that you can improve quickly. Your inventory health can be gauged directly from your inventory reports. If there are shortfalls, you can quickly address them. Shipping time can be improved by signing up with FBA. Pricing can also be changed in an instant from your seller central account. Many sellers also use automatic repricing tools to always stay one step ahead of the competition.  
Pricing strategies to win the Amazon Buy Box
Sellers are constantly changing their product prices in order to win the Buy Box. In many cases, even a few dirhams can tip the scales in their favor. There are 3 ways in which you can consistently change the price of your products: 
Manual repricing
Rule-based repricing
Algorithmic repricing
Manual repricing
This is the simplest repricing method that involves manually updating product prices through the Amazon seller central interface or any other third party platform. This offers the greatest amount of control over prices, but can be time-consuming in very competitive categories. This can also turn out to be a herculean task for sellers with a large portfolio. 
Rule-Based repricing
This is by far the most popular repricing technique used by sellers. Repricing, in this case, is based on the parameters that you set and is commonly used by automatic repricing tools. This allows sellers to change prices while factoring in profit margins. 
For instance, you could set a condition where you drop your product price to one dirham lower than your lowest priced competitor. You can also add additional parameters to ensure your profit margin never dips below 15%. 
While manual inputs are minimal, you should routinely check on the prices to ensure your parameters are optimized to meet your business needs. Rule-based repricing can also lead to ugly price wars, where sellers consistently lowering prices lead to poor profitability. 
Algorithmic repricing
This is another method that popular repricing tools use. Unlike rule-based repricing where you set the parameters, algorithmic repricers come with their own set of rules to maximize profitability and win the Buy Box. This is great if you have a large portfolio of products on sale. There is little to no manual inputs involved. The drawback? These repricing tools tend to be expensive.
Automatic repricing tools (rule-based and algorithmic) can be incredibly useful in highly competitive categories. Price wars are very common on Amazon and are decided only by the product price when other metrics are similar. If your seller metrics are better, you can actually afford to sell the product at a higher price and still win the Buy Box. 
Does Amazon always win the Buy Box?
This is a concern common to many sellers across the world. Whenever Amazon sells the same product, we often notice that the retail giant controls the Buy Box. Why is that? Has Amazon rigged the game to benefit their own products and brands? 
The answer is simple. The selling process is not rigged. Every seller, including Amazon, has the same chances of winning the Buy Box. However, Amazon's massive logistical network and influence often mean that they can acquire the same product for cheaper and sell the product at a cheaper price. Amazon products are also eligible for Prime delivery. This means Amazon is just one of the competitive sellers vying for the Buy Box. The algorithm, however, is impartial and every seller has the same chances of winning the magical Buy Box. 
Lost the Buy Box – What next? 
The Buy Box does change hands constantly so it is important that you constantly monitor it. If you've lost the Buy Box, it is important that you win it back immediately. Don't forget that seller ranking affects your chances of winning the Buy Box, so you should always be trying to maximize sales. 
One reason you may have lost the Buy Box is a lack of sufficient inventory to fulfill orders. If this is the case, then ensure that a new shipment is on the way. Planning for seasonal fluctuations in demand is important if you want to hold on to the Buy Box. 
The first thing most sellers do when they lose the Buy Box is to adjust product pricing. While that is a valid strategy, ensure that your margins are not very affected. Alternatively, you can run short-term promotions or offer coupons to win back the Buy Box. 
Final thoughts
While the Buy Box is not the only factor that contributes to success on Amazon, it is a key feature. Pricing is one of the crucial factors affecting your chances of winning the 'magic' box, but you need to ensure that it doesn't come at the cost of your profit margins. Automation has made it easier for sellers to consistently change prices and challenge for the Buy Box. Unfortunately, the competition has also led to an increase in price wars. 
If repricing isn't helping you win the Buy Box, it is a clear indication that you need to improve other metrics. Seller rating takes time to improve, but you should start now. Respond to your consumers, ensure proper packaging to protect products from damage, and improve the customer experience to ensure good seller feedback. These are some of the things you can do to improve your seller rating in the long-run. 
Do you have any tips that you use to win the Amazon Buy Box? Let us know in the comments section below.